Online Payment
Rapid Setup
For Your Business
Helping you accept payments on websites and in apps. Launching custom fintech projects from the ground up

Payture
Оплатить с

Оплатить с

Оплатить через
Привязанные карты
Новая карта
Номер карты
**** **** **** ****

Оплатить 1 800 ₽
Отчет за:
01.04.22 / 00:00 — 30.09.22 / 00:00
30,3 млн

38,3 млн.

36,4млн.

42,3 млн.

45,1 млн.
Платежи: 01 июнь 2022 - 30 июнь 2022
Успешные

38 300 000 ₽

Не успешные

5 400 000 ₽

Средний чек

12 530 ₽
Internet Acquiring
Decide how you want to connect: quick start with Payture Lite or a custom payment solution
NEW
A ready-made solution for accepting payments in one day! Suitable for sole proprietors and legal entities registered in Russia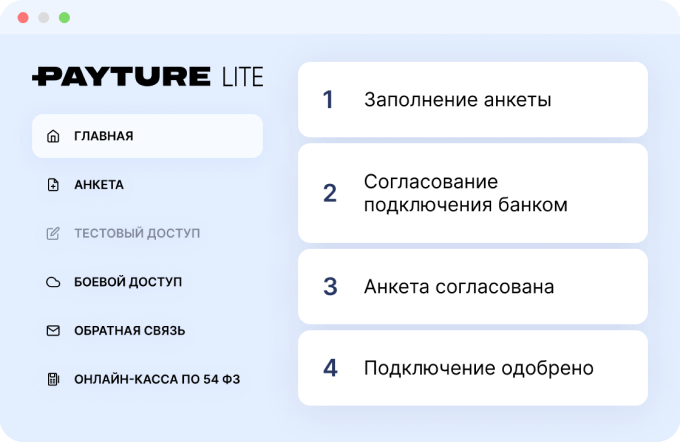 Individual Solution
Suitable for more advanced tasks: an expanded list of banks, connection in other countries, as well as foreign legal entities, acceptance of foreign cards and other individual payment solutions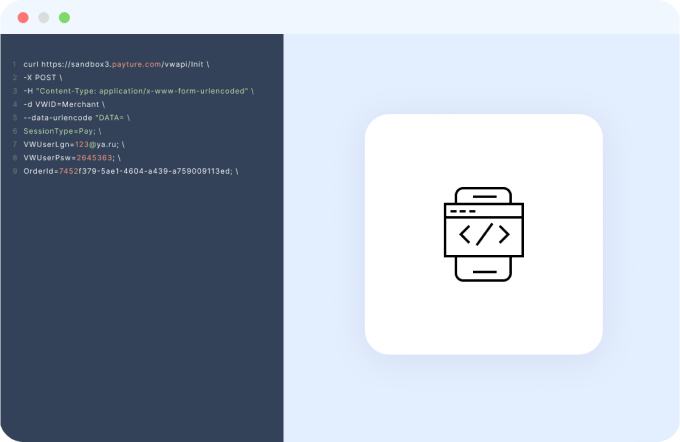 13 Years
of successful operations
since 2010
99.9%
We guarantee 99.9% uptime for our payment services, as per our SLA
* An SLA, or Service Level Agreement, is a contract that defines the
level of service expected
by a customer from a supplier, laying out the metrics by which that service is measured.
99.7%
We consistently achieve high conversion rates
* This does not account for declines that are out of our service's control
Over 350M
Transactions processed annually through
our Payture system*
* We constantly enhance our system's resilience to accommodate peak loads and have backup channels ready in case of technical disruptions
Manufacturability

We're one step ahead
in payment technology,
making it convenient
and accessible to all.
We were the first
to develop
the digital wallet
Masterpass
for Mastercard, integrate
with Yandex Pay ,
and brought foreign card acceptance
to Russia

Security

Customer security
is Payture's top priority.
That's why we use
our own anti-fraud solution,
to avoid losses due to fraudulent chargebacks
and protect our clients' reputation.

Responsibility

We strive to consistently enhance our services
to ensure that our clients can fully appreciate
the benefits and feel
our dedication towards achieving their goals

Rapid Scaling

Quick market entry
is a reality with us, thanks to a wide range
of partners worldwide.
Our system includes multi-currency transactions,
non-resident operations,
and foreign card acceptance.

Payment
Cascading

Even a minute's disruption
on the acquirer's end
can lead
to massive losses for the business.
To keep things running smoothly, we work with several banks to make sure payments go through without any transaction rejections

Individual
Approach

We offer a special development
and integration process, specifically tailored
for each customer's payment needs
and goals.
Geography of work
Payture offers exclusive partnership terms in Russia, CIS countries, and Europe.
We are ready for new integrations
to support the launch of your product
on the international market
Russia

Alfa Bank
Otkritie Bank
Promsvyazbank
QIWI Bank
Russian Standard Bank
Sberbank
TCB Bank
Tinkoff Bank
VBRR
VTB

CIS

Europe

Middle East
Developing fintech
projects from scratch.
We act as a software
vendor
in the field of
IT and fintech
We specialize in creating and improving innovative technology products
Among such projects — the development of a cloud storage
for card data Masterpass
and Mastercard Business Bonus specifically designed for Russia and the CIS region
Reviews
Denis Belekhov

Head of Yandex Pay's Partner Channel Business Development Group

Payture is our reliable partner in many projects. Above all, we value the professionalism of the processing center team, their quick response to fintech trends, and a strong development team. Payture was among the first providers to integrate Yandex Pay into their clients' payment forms. We continue to collaborate successfully and develop the payment method, providing as many customers as possible with the opportunity to make purchases at one touch.

Vitaliy Mikhailov

Financial Director of Kiwitaxi

We are satisfied with our collaboration with Payture. Thanks to multi-currency, we managed to organize a single point of entry for cash flow from all types of customers. The flexible customization of the payment page meets all our requirements, and attractive rates combined with convenient crediting to an existing account in the EU determined our choice.

Artem Altukhov

Financial Director of Busfor

Thanks to the implementation of modern technology in bus passenger transport based on the 'Electronic ticket' solution, the online booking process has become simple and intuitive for a wide range of users. The main requirement for Payture was to organize the verification of payment data as quickly and reliably as possible. In Russia, only this payment gateway has sufficient expertise and experience in the travel industry. Colleagues offered us special cooperation conditions, helped set up operational reports, and create a unique payment page.

Irina Grandel

Business Development Director of IVI

Currently, most movies are watched for free, but some are only available through online payment. Therefore, we offer several options. The most convenient and popular tool for users is, of course, online payment by bank card. For the convenience of moviegoers, there's the ability to link a card in the personal account and set up recurring payments, which allows for the quickest possible movie payment and automatic subscription renewal. Throughout our years of working with Payture, any refinement and changes in service settings have always been fast and precise. Our partners provide high service availability and maximum friendliness.

Irina Lapshina

Masterpass Business Development

Payture is among the first Mastercard partners in Russia, who began to connect online stores to the new global service Masterpass, which is spreading around the world. Thanks to the many years of experience and professionalism of the processing center's team, our expectations for the timing and quality of the Masterpass launch in Russia were met. Now, fast and secure Masterpass payment is available not only to users from Europe and the USA, but also to Russian buyers, who can easily and simply 'with one click' make purchases in online stores in Russia and all over the world - wherever there is a Masterpass logo.

Alexandra Nikolaeva

Chief Analyst at Alrosa

As part of the cooperation on online payment functionality implementation, the Payture processing center has proven to be a reliable partner. Their customer orientation, clear understanding of our needs, and responsiveness in resolving arising issues attest to the high professionalism of Payture's staff!

Anatoliy Malyshev

Director of Services Development at City Mobil, Taksovichkof, Tappy, LuuLuu

If you need a technologically advanced, responsive, and user-friendly service - choose Payture. For a taxi aggregator, it is very important that the user can quickly pay for a ride in a way convenient for them, and the driver - withdraw the money they have earned from the personal cabinet. That's why we took a very measured approach in searching for an acquiring partner and turned to Payture. The Payture team responds quickly to all suggestions, helps understand complex technical moments and payment page organization, demonstrating reliability, openness to dialogue, and responsiveness.

Dmitry Dunichev

Ostrovok.ru - Head of Payments

For successful business scaling and entering new markets, a company needs the support of reliable partners. The Payture team has proven itself over 10 years of collaboration as a responsible, flexible, and change-ready player in the financial technology market. Thanks to joint work with Payture, we can accept payments from both Russian and foreign users. At our request, colleagues from the processing center made individual adjustments with the bank, took over integration with the online cash register partner in Kazakhstan. We are glad that we have developed a relationship of trust with Payture, as a result of which we have implemented many joint integrations, including the launch of Yandex Pay, and in the near future we plan a joint launch of other payment solutions in Russia and abroad.

Nikita Kirillov

START - Head of the group for working with platforms and payment services

The popularity of streaming services,
especially, online cinemas increases every year. However, along with
high demand, there is a need for a convenient and functional service that can provide an uninterrupted payment process with maximum conversion.
To solve this problem, we turned to Payture. It's nice when a company takes a flexible approach to development and integration processes, offering payment solutions for specific goals and tasks of the business. The Payture team has set up the entire online payment process on the platform and now access to favorite movies has become even easier. We have many plans ahead, and we are confident that our close cooperation will allow to implement all of this in life